Scuba Diving Kamala Beach Phuket In Thailand
Half Day Dive Trips with 2 dives in Kamala Beach
Merlin Divers dive centre offers excellent half-day dive trips for Scuba Diving to the local dive sites and dive sites of Kamala Beach, Patong, Surin and Bangtao Beach in Phuket – come and join us for Scuba Diving Kamala Beach .
Exciting, easy dives that do not take much time at an unbeatable price for the dive trip. Competitively priced and still excellent diving in Kamala on Phuket.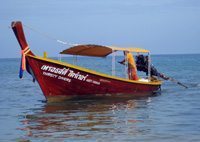 Local dive trips run with Thai longtail boat
The local dive trips are run with Thai longtail boats directly from Kamala beach. We start at 9:00 AM in the morning and are back about at 1:30 PM in the afternoon.
The dive boats have a roof to protect the divers from the blazing sun and a convenient arrangement for the diving tanks. Fruits and plenty of drinking water will be brought along as well!
Authentic Thailand diving experience with our eco-friendly boats that supports the locals, all under Swiss management.
Quality guarantee for the diving in Kamala Beach:
No more than 8 divers on the boat!
2 Divemasters on the boat – per group not more then 4 divers!
No more than 4 students per one instructor!
Price: 2,500 Baht – plus 500 Baht for full set rental equipment per day
The diving center and scuba dive school Merlin Divers offers customers a hotel pick up service – especially for divers staying in Surin and Bangtao Beach. Merlin Divers dive facility also picks up from the Laguna area and Patong.
All pick ups are included free of charge. For further distances please email or call Merlin Dives shop to be able to make arrangements as well.
Quality Diving – Small Dive Groups on Dive Tours!
Small Dive Groups on Dive Tours
On the trips Merlin Divers promises the customers 2 times one hour dives – air supply permitting of course. All the dives are relatively shallow – hardly over the depth of 18 meters – safely planned multilevel dives.
You will be guided by well trained Divemasters – and the groups are kept small to a maximum of 4 divers per guide.
Merlin Divers Dive Centre brings along plenty of drinking water for all customers on board and an assortment of fruits as a snack between the dives.
Come and dive with Merlin Divers Diving Center in Kamala Beach near Surin and Bangtao Beach on the west coast of Phuket in Thailand.